I grew up in Michigan, a state with four distinguishable seasons and I loved them all, but there was always something special about long summer days. Those summer sounds that now take us back to our childhoods, the catchy & very recognizable sound of the ice cream truck, the laughter and sounds of children splashing in a pool, the neighbor mowing his lawn. Those beloved summer moments like picnics on the beach, baseball games at the park, barbecue's held in the backyard and the arrival of strawberries became some of my most cherished memories.
This past April,
eRecipeCards
and
O Olive Oil
partnered together for their Rites of Spring Cooking Contest and began searching for people to do a product tasting & review paired with a recipe creation challenge. When I was chosen as one of the lucky people to participate, I was excited and began to think of summer...I was hoping for some warm weather inspiration.
I received my surprise
set in the mail
and was delighted to find O Meyer Lemon Olive Oil paired with their O Champagne Vinegar. Their products are of the highest caliber. Organic citrus crushed together with ripe mission olives produces a golden, silken olive oil that is light in texture and flavorful in taste. It was truly an easy task when it came time to
write the review
. Using a french baguette so as not to interfere with the taste of the oil, I used the same for tasting the vinegar, and also after emulsifying the two together. There were so many recipes flying through my thoughts I was happily surprised to finally settle on a classic that has had a place in history since the 1500's.
When you're working with gourmet quality ingredients such as O Olive Oil and their oak barrel aged vinegars, you want to follow through by using fresh ingredients that not only shine in your final dish but are at the same quality level as the oil and vinegar you're using. It's the vinaigrette flavors that pull any salad together to make it exceptional...a dry salad is still only a salad...with O, it's taken to a whole new level! It turns a good salad into a great salad...and in this case, a real masterpiece. I'll keep this new recipe in my box and make it again and again for family and friends knowing it will always be a crowd pleaser.
Agnolo di Cosimo, a 16th century Italian was not only an accomplished and highly skilled artist but was a
poet as well.
Agnolo di Cosimo famously and
best known as Bronzino II
1503-1572
In his book, "Li capitoli faceti editi ed inediti di mess", he wrote "In lode delle cipolle", which translated in English reads, "In Praise of the Onions". He speaks about a salad of onions that readers construe was a description of a Panzanella Salad. An onion salad mixed with a vinaigrette, it wasn't until later that tomatoes were added to make it a classic tomato, onion and bread salad. Italians, priding themselves on not wasting anything, developed this recipe as a way to use day old bread by rehydrating it and serving it with fresh vegetables. I thank them, and believe you will too once you try this absolutely fantastic salad with the addition of the O Olive Oil & O Vinegar vinaigrette...it's elevated to a culinary work of art! It's a summertime treat : ) Fresh, clean and vibrant...
Grilled Panzanella Salad
1/2 a pint of grape tomatoes, halved
2 tablespoon olive oil
1/2 red onion, chopped small
1 sm clove of garlic, minced
8 slender spears of asparagus, ends broken off & stems peeled
1 zucchini, halved
1 yellow bell pepper, seeded, remove pith and quartered
1 bag of focaccia bread croutons
1/2 cup O Meyer Lemon Olive Oil
1/4 cup O Champagne Vinegar
1 teaspoon fresh oregano, chiffonade (sliced into thin strips)
1/4 teaspoon dried oregano
1 teaspoon fresh basil, chiffonade (sliced into thin strips)
1 tablespoon fresh curley parsley, chiffonade (sliced into thin strips)
Salt & Pepper
Place halved grape tomatoes on a baking sheet, drizzle 1 tablespoon olive oil over tomatoes and season with S&P
Place into a pre-heated oven set at 350 degrees for 15minutes
While tomatoes roast...prep red onion, garlic, asparagus, zucchini and bell pepper
Preheat grill...remove tomatoes from oven when ready-set aside to cool
Brush olive oil over asparagus, zucchini and bell pepper & season with salt and pepper, grill zucchini & bell pepper for 4 min on ea side, grill asparagus for 2 min flipping over once to create grill marks, remove from grill and set aside to cool
Once cooled, slice veggies into bite size pieces
1/2 cup O Meyer Lemon Olive Oil
1/4 cup O Champagne Vinegar
minced garlic
Whisk well...
Note: You don't need additional seasoning for the vinaigrette as the meyer lemon olive oil and the champagne vinegar are really the stars here...there is a ton of fresh flavor in these products and letting them shine through on their own is the key to making this salad. As some may say, you don't have to meddle with something when it's already been perfected.
Place croutons into a bowl, drizzle approx. 1/2 the vinaigrette over the croutons, 1 teaspoon at a time while tossing them in the bowl
Place asparagus, zucchini, bell peppers, red onion and tomatoes into the bowl
Sprinkle fresh and dried oregano, basil and parsley in with everything
Toss gently together
Allow to rest in refrigerator for 1 hour before serving to allow the vinaigrette to soften the croutons.
Remove from frig, taste and drizzle additional vinaigrette over salad if needed
(I served mine straight away at room temp and it was delicious, the vinaigrette softens the croutons in the first step and they were soft around the edges with a slight crunch in the center...not too hard, just firm with a slight bite)
Serve and enjoy : )
Ideas:
*For a quick simple preparation, substitute cucumber for the zucchini, omit the asparagus and keep all veggies raw.
*This salad is traditionally made with day old bread/stale bread cut into cubes, I used the croutons as a quick prep idea, but feel free to play with different types of bread, Italian, Ciabatta...etc.
*Use any fresh herbs you enjoy and omit any from the recipe you don't, try mint for a tasty change.
* You can add thinly sliced salami or prosciutto and a wide variety of different vegetables, be creative : )
I want to thank O Olive Oil and eRecipeCards for choosing me and allowing me the chance to participate in this cooking contest. It has been tons of fun : ) I enjoyed trying this great product and will not hesitate to try the many, many different oil and vinegars they offer. I also want to thank you, my readers for visiting and I hope you'll try making this salad with the addition of these tasty O Olive Oil and O Vinegar products, I know you'll enjoy it. It's the flavors of the O vinaigrette that pulls everything together and it gives it it's great taste.
My mom was very hesitant, she likes her lettuce salads...and she asked, No Lettuce??? Lol...but! She ended up eating two bowls of it! Yay! And although my stepdad didn't throw caution to the wind and try the salad...he didn't want it to interfere with his homemade tacos & in his defense, he is true blue meat & potatoes man : ) He did though ask the next night if I had any of "that vinaigrette" leftover! Score! (I had him sample it when I was done whisking it for the salad). My sister also shared with us and she really liked it as well, she said it reminded her of a bruschetta flavor.
If you'd like to show your support of my recipe, I would truly appreciate it. Visit and sign in to
eRecipeCards
and save this recipe to your recipe box to show you'd like to try it. It takes a few moments to sign up, the site is very user friendly, and you can find my recipes if you
click this link
.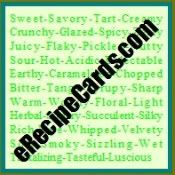 You can also visit
O Olive Oil
and
eRecipeCards
on Facebook, let them know how ya feel : ) Just be sure to let them know "I'm Cookin' In My Kitchen" inspired you : ) "Like" their page and keep up to date with all that's new.
While you're surfing...take some time to stop by
O Olive Oil's web site
, they offer awesome information on what they do, how they do it, and where they get their inspiration. They offer beautifully wrapped packages that make wonderful gifts for the people you love who deserve something uniquely special.
And of course any time you take the time to say hello here on my blog makes me do my happy dance : )
Till Next Time, Ciao & Happy Cookin'