Have You Heard The News?
If you haven't yet heard...where've ya been?
Rites of Spring Cooking Contest
Together they've chosen a
group of food bloggers
to participate in the Rites of Spring Cooking Contest. The group selected is asked to do two things and write a post about them...
1. Complete a tasting of these beautifully bottled, gourmet organic-citrus crushed olive oils and premium barrel-aged wine vinegars and...
2. Create a delicious recipe inspired by the O Olive Oil's products sent to them. 
I Know! Exciting Right!?! I got my O Olive Oil in the mail, and it was just like Christmas opening that package having no idea what flavor combinations I would find inside.
Packaged well with great care, you know they take their product very seriously, so much so that it gives you a good sense of the treat you'll experience once you open the bottles.
Are you wondering yet?? Wondering which ones I got? : ) Just a little curious?
O Meyer Lemon Olive Oil & O Champagne Vinegar
What a ton of fun it's going to be!!! Their
O Champagne Vinegar
is their most popular vinegar and is barrel-aged in white oak while their
O Meyer Lemon Olive Oil
is made with Meyer lemons crushed with hand picked California Mission Olives and produced in small batches. Don't they sound lovely : ) I have high hopes they are going to taste as great as they sound.
They'll be judging on a few different catergories, Photo and Food Stylings Skill~Writing Skills~& Best Recipe.
What can you do to help during the contest? Check back here to keep up-to-date on what's new and to find out what creative recipe I get inspired to develop once I've had a chance to taste the oil and vinegar : )
Also...please stop by the Facebook pages for both companies and take a look around to see what's new and what they're up to, tell them Jenn @ I'm Cookin In My Kitchen sent ya over : ) I've made it super easy for you...just click on the links below and you'll be taken right to their Facebook pages
&
If you're not already familiar with eRecipeCards...be sure to check them out online. It's a place where many, many food bloggers have submitted thousands of their recipes for others to enjoy. It's super easy to sign up, browse through pictures of tasty dishes and even save them to your recipe box when you see something you'd like to try. You can search their site by title of the dish you're looking for, by ingredient or even by the name of a blogger you know, ahem...
like me
! : )
Signing up now if you haven't already will make it easier later for you to vote for your favorite recipes during the contest...it will also put you in a position to easily begin submitting your own recipes. Submitting a recipe post can be done in as alittle as 1 minute or less!! They have made it that user friendly! Nice, right? Go check 'em out and sign up to join in the fun. Just
click here
for your magic ride through cyber space and you'll be there in a blink of an eye ; )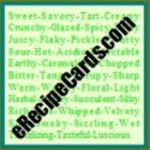 Till next time, Ciao & Happy Cookin'